I'm a woman. Phenomenally.
This beige silk sari paired with a red blouse and traditional jewellery makes you stand out, complemented by the reflected gleam of the sun. If you are more about making a statement than just turning heads, this how you cannot go wrong.
Silk, Begie/Golden, Traditional jewellery
Wardrobe: TangailSareerKutir
Location: Mermaid Beach Resort
Whispers in the wind
A block-print sari boasting the many colours of the season punctuated by a blouse designed bold but coloured subtle. This is what relief looks like in the summer. And this is what you can aim to look like as as, cool, comfortable and chic.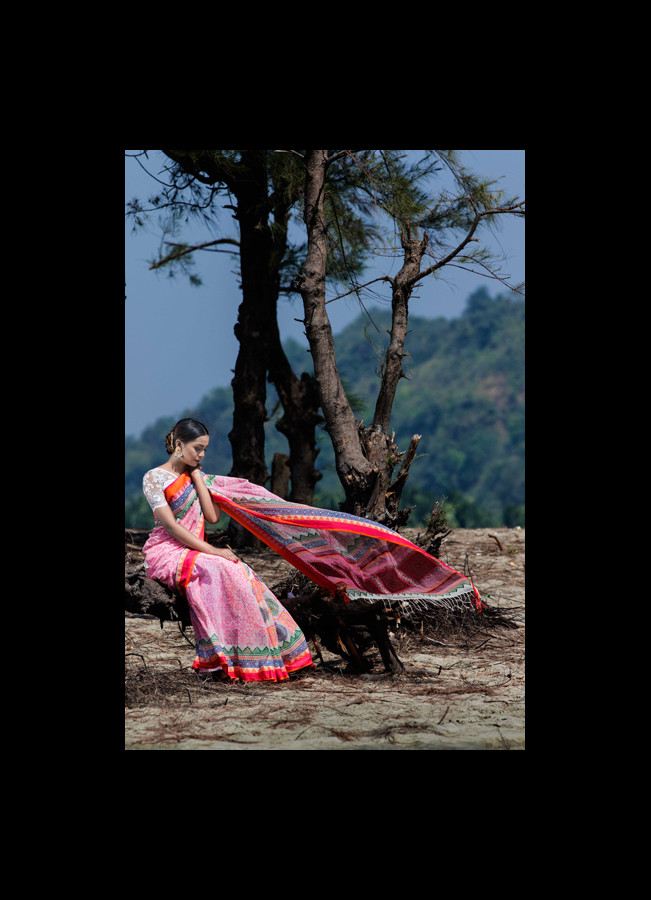 Blouse designed by Jahin Khan
Location: Mermaid Beach Resort
The Last Rose of Summer
A sleeveless collared blouse draped with a Jamdani in soft summer colours, held together by a dazzle of a belly chain; this what looking different looks like. Tamed hues masking an untamed spirit, welcoming summer but always looking ahead to what comes next.
Blouse designed by Jahin Khan
Wardrobe: TangailSareerKutir
Location: Mermaid Beach Resort
---
The Red Lady
A silky sari in the colour of desire itself; a passion painted on the very fabric that you choose to spirit. What is red? It is everything that we know, hold dear and love. It is the colour of perhaps love itself. It is daring. It is dangerous. Paired with a gold blouse with the right neckline, it is gorgeous.
Blouse designed by Jahin Khan
Wardrobe: TangailSareerKutir
Location: Mermaid Beach Resort
---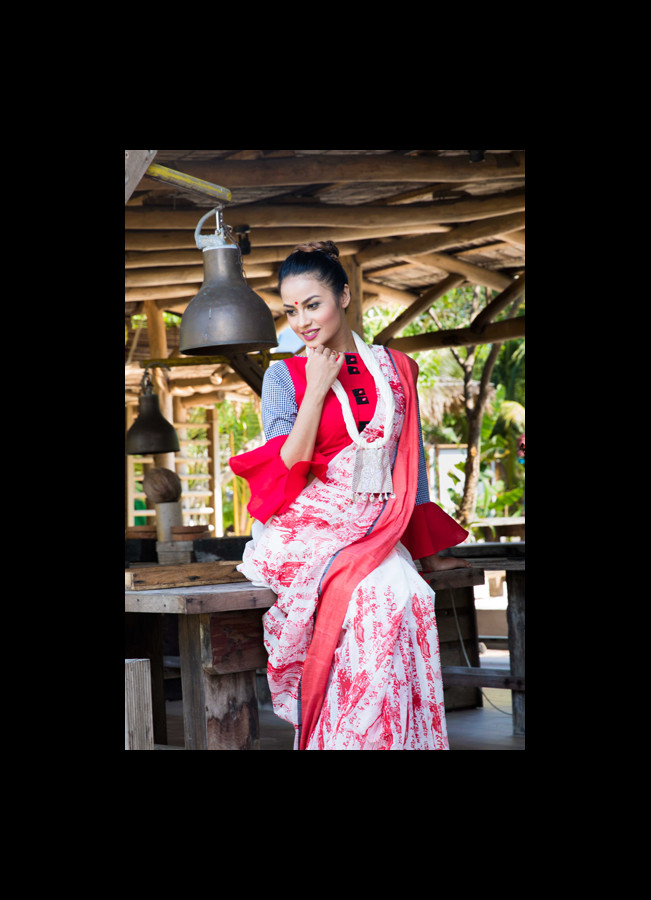 The smiles that win, the tints that glow
A sleeve that ends with a frill, a textile jewellery that concludes with seashells and a Sari that is wrapped in ways unimagined; this is the thrill that summer brings, a chance to experiment, to explore and to enhance the gifts that you are given.
Sleeve Frill, Textile Jewellery with seashell,
Location: Mermaid Beach Resort
---
Chorus of Colours
There's the kurti made of khadi with motifs boasting messages from the bard of Bengal. The same bard speaks sophisticated words to the sari paired with textile jewellery imposed against the vibrancy of the its many colours. This is what a duo can look like, a fusion between the east and the east again, a homage to richness of the culture that we call ours.
Location: Mermaid Beach Resort
R- ShutiSari, Rabindranath writing, Textile Jewellery
Location: Mermaid Beach Resort
---
She walks in beauty
Fire.Fiery.Furious. These are the abstract images that come to mind when you see this shade of red, in the silky blouse with a patterned neckline complemented by the similar work on the wrists. This is how the outfit is tied together; that and by the subtlety of the sari.
In her eyes
Get lost in the two orbs that mesmerise while the bleeding cotton serenades your senses. The textile jewellery tells you that you are now in fantastical domains promising vistas unvisited. A volcanic eruptions spews a lava that paints the blouse. Where are you? Where do you stand? Or are you just lost in her eyes?
Location: Mermaid Beach Resort
Study in White
A high neckline embedded with pearls on a kurti made in linen, detailed in red. Complemented by the shadow on the left dressed in a white Panjabi with an embroidered neckline. This is a study in white, a colour that is seemingly colourless but one without which there would be no colours. A contrast and a conflict, in one.
R- High neck, Linen, pearl embedded neck
Model: Abdullah Al Mahfuz Raj, Mashiat
Location: Mermaid Beach Resort
What is red?
A panjabi with an embroidered neckline seems simple enough. Look deeper and once again you see the red, weaving its way through the neck and down to the wrists. Sudden splashes find themselves in the embroidery itself. There's a message there somewhere and you are left trying to find where.
Model: Abdullah Al Mahfuz Raj
Location: Mermaid Beach Resort
A caress of colours
A luxurious drape of a silken sari, topped with a coatee made of muslin, the finest material man has known. Highlighting its many nuances is the subtle embroidery, emblazoning flowers in a game of hide and seek. A frill petticoat and a colourful aachal bring the display to a close. But turn around and look again. And again.
Silk Sari, with Muslim coatee with embroidery, frill petticoat, colourful aachal
Wardrobe: Z & Z by Simily
Location: Mermaid Beach Resort
Child of the land
Green on green, the lime of the dress conversing with the deeper shade of the grass; of course, not all mortals are privy to such delicious whispers. A cotton skirt is paired with a long top embellished with embroidery, a flower here and a flower there, blue blooms in a field of greenery, a vastness unexplained but punctuated by indelible prints of flora.
Cotton skirt, Long top embroidery, lime green,
Wardrobe: Z & Z by Simily
Location: Mermaid Beach Resort
Colours me captivating
A chiffon anarkali chemise hides beneath a cotton kameez which itself is buried in a light marriage of embroidery and block prints. A harmonious bond producing intangible fruits that only the eyes and the minds can feast on; a synergy that rushes and revitalizes in equal measures. An orna rolls in the colour spectrum, from a pink to a magenta to an orange to back again.
Chiffon Anarkali Chemise, Cotton Kameez embroidery, block print, Orna, Cotton
Wardrobe: Z & Z by Simily
Location: Mermaid Beach Resort
It was all yellow
A yellow chiffon kameez gleaming with a shiny white cotton top, with one stand-alone embroidery on the side, readies you for the day ahead. Tassels in the form of puffs of multi-coloured clouds conclude the piece, with layers of a beaded necklace tying the entire outfit together. Some days, we are all yellow. Some days we are all with the sun.
Shiny cotton embroidery, Chiffon yellow kameez
Wardrobe: Z & Z by Simily
Location: Mermaid Beach Resort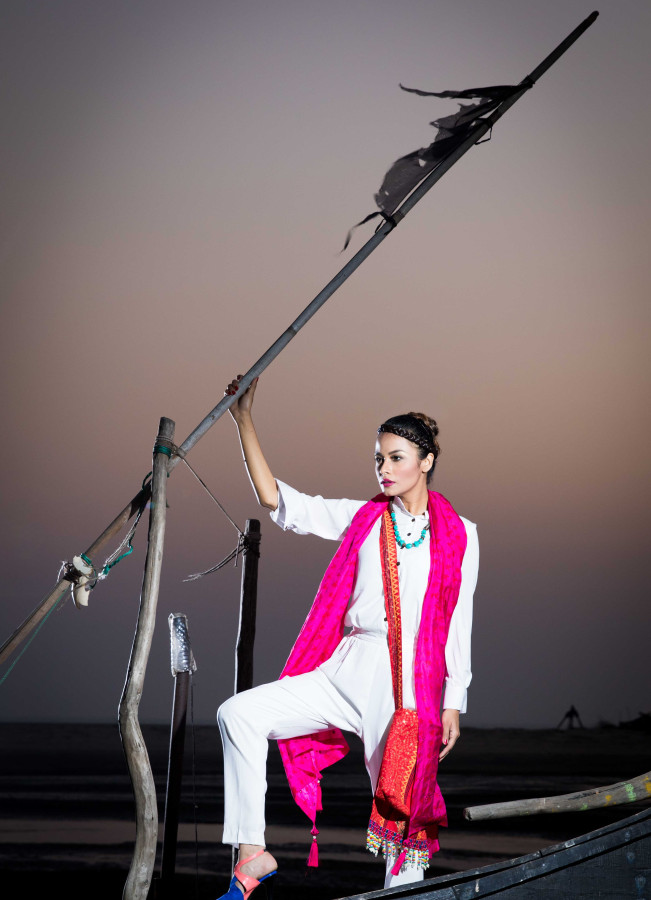 A pure white jumpsuit brought to life by a chiffon orna bleeding magenta, topped with a traditional bag. A fusion of many cultures, all in one statement piece, that exudes an aura of purity; a balm for the eyes in dusty, crowded corners of the world.
Jumpsuit, Chiffon magenta orna, traditional bag
Wardrobe: Z & Z by Simily
Location: Mermaid Beach Resort
Wanderlust
A long skirt in white like a lone star in a cloudless sky; painted with a partial to red rainbow right across the middle, paired with royal blue heels. You sit in wonderment, at yourself and at the world that you feel belongs to you. You are tempted by a wanderlust, real and imagined both and you must go where your heart shall lead. You go blazing a trail.
Location: Mermaid Beach Resort
A serenade of simplicity
Monipuri  is the choice of fabric for the occasion. A maxi-dress to go with a powerful turban, evoking notions of strength, whilst reversing roles through the lenses of the mainstream. The red returns in a prominent border and the palazzo themselves become at once entwined with the image such a sight ought to conjure.
Monipuri, turban, Maxi-dress, red border (material tba)loose palazzo,
Location: Mermaid Beach Resort
I'm Gleaming
A boho reimagined in anarkali; a brown repackaged. Bejewelled with floral prints and a top tied together, styled like a chameleon, at once distorting any separation between two distinct styles of wear. What you have at the end is a piece to write sonnets on, unending strings of words praising what is and what could be.
Boho, Anarkali, Floral print
Location: Mermaid Beach Resort
The Dawn of Duos
A kameez generous with the embroidery resuscitates a forgotten shade of simplicity. On the left, another white is speckled with embroidery that is borne on the neckline and travels steadily. The red returns for the lady, classic red bangles to with red borders and a red kurti. There is nothing subtle here but loud and in your face, sometimes as it should be.
Location: Mermaid Beach Resort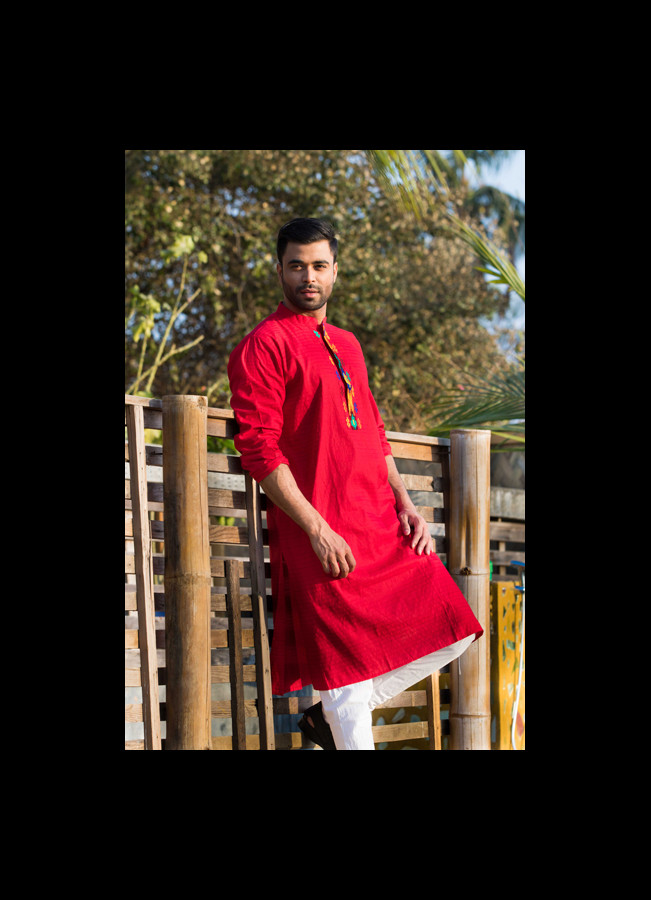 Red
Red is roses, red is the blood and red is an infant's cheek, masquerading as pink. Red is many things, conflicting at times and coexisting some other. A red Panjabi, with lines stroked, barely perceptible unless you pay attention. The neck line is dotted with vibrant colours, creating such combinations that one did not think possible.
Model: Abdullah Al Mahfuz Raj
Location: Mermaid Beach Resort
Red cotton panjabi with embroidery
https://youtu.be/376uJraZr7Y
LONDON TIMES SOCIAL BUSINESS CAN BE MARKETING THESE BRANDS IN UK AND EUROPE, If you wish to sell or purchase any of these brands please contact: ltnewslondon1@gmail,com